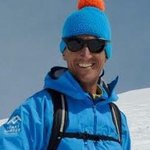 38 years old
fr
en
it
Alessandro MUNIER
Mountain guide
Activities :
Hiking
Snowshoeing
Rock climbing
Via ferrata
Ski touring
Off-piste skiing
Mountaineering
Ice climbing
Italy / Alps
Val d'Aoste, Aoste
About
I was born in Aosta valley in 1981. I grew up surrounded by the wonderful peaks of my region, but it was only after I finished university that I really began to discover the mountains. My range of action, until then limited to the ski slopes, suddenly took on totally different proportions.
I soon developed a real interest for all mountain sports, from trekking to  high-altitude mountaineering, rock and ice climbing, ski touring and freeride skiing.
Little by little, the idea of becoming a mountain guide took hold. At first nothing more than a dream, it became increasingly appealing until I reached a point where I was ready to cast an otherwise promising banking career to the wind and change my life forever.
In 2016, I qualified as an aspirant guide, and began a new chapter in my life.
Offers without scheduled departures