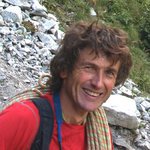 52 years old
fr
en
Bernard GRAVIER
Mountain guide
Activities :
Rock climbing
Mountaineering
Hiking
Ice climbing
Via ferrata
France / Northern Alps
Vercors, Presles
Graduated as a mountain guide in 1992, I am passionate about rock climbing! I live in Presles in the Vercors (a high place of climbing in Europe) and I practice with passion my job as a mountain guide.
I am invested in the opening of high level routes, but I also take great pleasure in finding  easier routes for my clients. Thus was born the hardest route of the cliff of Presles: Badaboum (12 piches between 7a and 8a opened in 1991 and I free climbed immediately) and the easiest: Bim Bam Boum (3 piches in 4 and 5 that I also climbed a few times!).
For 10 years, I also devoted myself to the training of future aspirant guides. The warm human relationships tied through mountain outings are some of the greatest satisfactions I get from my job as a mountain guide.
The cliff of Presles has always been my anchor and as I regularly walked in front of the farm of Robert Philibert, mountain farmer, to discover new route, I naturally tied with him a friendly complicity and one day he offered me to buy his farm. Now Robert is no longer but this mountain farmer is still present among us thanks to all the stories of this beautiful place of nature he has kindly delivered us.
I live now this beautiful farm at the top of the cliff that I fixed up with my girlfriend Dominique. A cottage opened in 2007, and a bouldering room of 100m2 in 2011. In 2014, work continued. We currently have, in addition to our cottage, a meeting room of 48 m2 (music, yoga, works council, party), 4 guest rooms with bathroom and 2 beautiful cabins that I invite you to visit our website www.entrecieletpierres.com.
Offers without scheduled departures