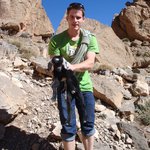 35 years old
fr
en
sp
Cédric BRONNERT
Mountain guide
Activities :
Hiking
Snowshoeing
Rock climbing
Via ferrata
Ski touring
Freeride skiing
Mountaineering
Ice climbing
Switzerland
Genève
Certified as a mountain guide (from the high mountain guide course at the French Mountain Guide School -ENSA- in Chamonix) and living in Genève, I offer you many mountain activities, in summer and winter: rock climbing, mountaineering, via ferrata, freeride or backcountry skiing.
Whether you have a specific aim, the will to become self-reliant in the mountains, or simply a desire to have good time on the summits, do not hesitate to contact me in order to establish a suitable project together.
Having lived abroad for five years (US, Hungary, Netherlands) and travelled a lot, I really enjoy meeting and guiding foreigners.
Whatever your dreams and objectives are, I'll do my best to help you fulfulling them.