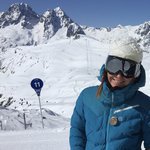 47 years old
fr
en
sp
Christelle GIOANA
Ski instructor
Activities :
Ski touring
Freeride skiing
France / Northern Alps
Haute-Savoie, Chamonix
I am originally from a small ski resort in the Savoy region of France and am a fully qualified ski instructor (french national diploma) as well as a mental coach.
In the beginning, I concentrated my career on being a high level downhill skier, I then went on to obtain a trade diploma and due to my inclination for skiing techniques and sharing, I trained children to a competition level in various ski clubs.
The passion for skiing enhanced my love for the mountains and my experiences in other outdoor sports enabled me to acquire a good physical and mental condition. My training courses at the Ski and Alpinism National School and my own personal training gave me good knowledge of the security measures needed when in the mountainous regions.
As I am also a mental coach, I can offer a different approach of how to learn to ski, my varied methods will quickly give you confidence in yourself along with your rapid progress and teach you how to take a break in your daily life routine.
I will be delighted to ski with you on the ski area of Chamonix, Megève (Espace Evasion), Courmayeur, Val d'Isère or the 3 Valley for example.
Patience, dynamics and always ready to listen, allow me to adapt to all your needs and share these magical moments that skiing and other mountain sports can offer.