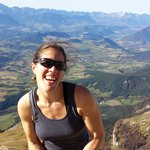 44 years old
fr
en
Coralie FRECKMANN GUEYE
Mountain leader
France / Northern Alps
Isère, Grenoble
My first steps gave the rythm on the auvergnate countryside. My next steps travelled through the Mercantour and then the Lakes Districts in England and the norman hills.
Today, they mostly criss cross the mountains of Vercors, Chartreuse, Belledonne but also the Devoluy and the Haut-Verdon in the southern Alps.
All along, I obtain a BA (Hons) Degree of Wild life Photography in Britain, in 2003.
Then, in 2009, the diploma of mountain leader and I am part of the UIMLA Union of International Mountain Leader Associations.
I also have diplomas witch enable me to take schools on field trips specialy on specific protected areas.
I invite you to continue this walk together, following our desires, for a day or more.
To hike, to look, to feel, to photograph, to immerse ourself into nature... is what I invite you to share...
Offers without scheduled departures