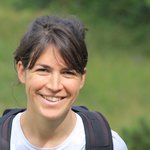 34 years old
fr
en
Elsa GAUTIER
Hiking guide
France / Northern Alps
Isère/Chartreuse, Sarcenas
Hiking guide since 2012.
After a PhD in glaciology working on polar climate archives, interested in current environmental issues, measuring the height of alpine glaciers each year and imagining how much longer we can admire them, I decided to serve my convictions by accompanying other people in the mountains.
I believe one preserve what he knows and understands.
What I expect: share knowledge and places I love, or just share the pleasure of an immersion into the wild, of a bivouac in a unusual spot, of a meeting with wildlife, or a meal in altitude...
Offers without scheduled departures