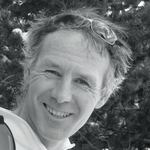 56 years old
fr
en
Frédéric VIRET
Mountain guide - Canyoning instructor - Climbing instructor
Activities :
Hiking
Snowshoeing
Canyoning
Rock climbing
Via ferrata
Ski touring
Freeride skiing
Mountaineering
Ice climbing
France / Southern Alps
Drôme/Sud Vercors, Die
Mountain guide since more than 20 years, I like to transmit what, in each place, opens us to the essentials.
To become autonomous, to discover, to explore and to enter new experiences are objectives that I will be happy to make you reach.
The idea is progressivity. We start with easy routes, then according to the desires of participants we go further or not.
Whatever its level, there is an interesting experience to share. If you have never dared to go on an initiation to ski touring, climbing a via ferreta or exploring a glacier, we are made to meet. So see you soon!
Offers without scheduled departures