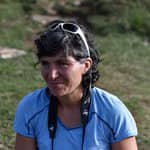 45 years old
fr
en
sp
Irène ALVAREZ
Mountain leader
France / Northern Alps
Haute-Savoie/Mont Blanc, Chamonix
The mountain that inspires me is made of sense and science.
Observing nature, getting inspired, trying to undestand, immersing yourself in the sounds, silences and colors of the mountain: let's share moments of wonder and conviviality!
Also involved with the Research Center on Alpine Ecosystems (CREA Mont Blanc), I offer you scientific volunteer stays to observe and hike differently in the Mont-Blanc massif.
Offers without scheduled departures