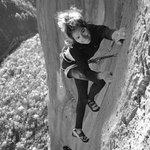 29 years old
fr
en
sp
Laura NEVEU
Climbing instructor
Activities :
Rock climbing
Via ferrata
France / Provence
Gorges du Verdon, La Palud-sur-Verdon
Being a climber for over twenty years, I am now a certified climbing instructor.
Having discovered climbing at the age of 8, I felt in love with this activity and with the places where I practice it.
Naturally I wanted to share this passion with as many people as possible, which is why I decided to make it my profession.
So I offer you initiations, multi pitch routes, climbing trips, abroad, in France or in the exceptional Verdon gorges where I live today.
See you soon on the cliffs
Offers without scheduled departures