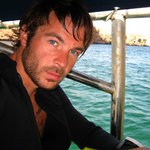 41 years old
fr
en
sp
Pascal TRIVIDIC
Canyoning instructor - Climbing instructor
Activities :
Rock climbing
Via ferrata
Canyoning
France / Northern Alps
Isère, Grenoble
A sport teacher made me discover rock climbing and made me want to become what I am, in his image: have a nice job, human, and leaving a lot of time to enjoy ...
I start rock climbing at 12, quietly, with college, and I try to become more and more independent. First small UNSS competitions, first multi pitch routes in Orpierre, Calanques or Mont Aiguille... I like it! In high school, I build a small wall and start to make the "hamster". Coming from Haute-Savoie, then expatriate in the north Isère, I manage to return to the UFRAPS of Grenoble. Until mastery, I spend my time climbing and joins the university team, a beautiful team of strong climbers together. My level on the cliff goes from 7a to 8a in two years! These years have made me discover the fun of training, sessions that never ended, good laughs, the compet' and especially the many trips in the south to climb the cliffs. My life now revolves around rock climbing and friends with whom I share it.
In 2000, I returned to the IUFM to prepare the contest of sport teacher and in parallel the training of rock climbing instructor... Two years sacrificed for this contest before to recover ... As a result, followed a sabbatical year where I catch up with travels, meetings and especially rock climbing. The mountains invade me more and more, the long and wild routes make me dream. I move between Chamonix and la Bérarde and spend my free time in more distant lands between Dolomites and Wadi Rum, in the Huayhuas Cordillera in Peru or Hindu Raj in Pakistan ... I'm on the quest for "big wall" and I take mainly pleasure in height, in long routes, that I collect, already more than 300 ...
My teacher pace gives me time to climb throughout the year and I like to reconnect with the Vercors in the summer, as a passionate instructor. It is with great pleasure that I will share my passion with you, so come and discover our beautiful Alps!
Offers without scheduled departures