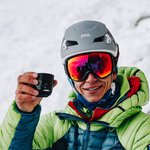 28 years old
fr
Pierrick FINE
Mountain guide - Canyoning instructor - Climbing instructor
Activities :
Hiking
Canyoning
Rock climbing
Via ferrata
Ski touring
Freeride skiing
Mountaineering
Ice climbing
France / Northern Alps
Isère, Grenoble
Passionate about the mountains since I was a child, it is above all the adventure and sharing that makes me tick.
It is letting myself be surprised by the inventiveness of nature that led me to discover ice climbing in my youth. Climbing these improbable, smooth and ephemeral forms... what a joy. But it is the sharing that pushed my practice towards competition. It's really cool to share your passion with lots of other friends in the world, just as crazy as you are: the emulation is then the best catalyst towards progress.
The opposite approach pushed me towards bigger mountains. Just leaving with a bunch of friends to enjoy life, cut off from the world, in totally unknown countries, such as the great exploration, to find myself at an altitude of more than 6000 meters in the wildest places on the planet, just marvelling at the infinite landscape...
In short, you will have understood, I will love to share your adventure, whatever it may be, in a via ferrata or at the other end of the world. I will be delighted to help you discover this wonderful world which can be within reach of your steps... But also of your ski, ice axe, carabiner, jump, climbing shoes...
Offers without scheduled departures