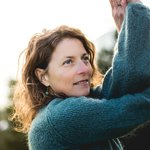 52 years old
fr
en
Virginie VILLARET
Mountain leader
France / Northern Alps
Haute-Savoie, Annecy
Mountain leader and Viniyoga teacher, I love my job because it allows me to share my passion and make extraordinary encounters. These magical moments in the mountains take on another dimension when they are shared!
The mountain brings me at every moment serenity, wonder and questioning. I am on the right path thanks to my hiking and yoga practice. Here or elsewhere, the important thing is to live and feel the place where our two feet are posed at the moment.
How did I get here? About seventeen years ago, a trek to Iceland changed my life.
The geysers, the glaciers, the powerful waterfalls, the wild nature, the raging elements... all this revealed to me a powerful living land so beautiful and so vulnerable at the same time.
So, back in France, I changed my career to environmental education as a mountain leader. A varied public, schoolchildren, groups of friends, families and individuals make up the clients I take along and each time we experience beautiful moments on our planet earth.
This journey on the mountain paths led me to my inner path, and yoga presented itself! In this case Viniyoga which is a complete yoga by its practice. It is a yoga of postures, breath, meditation, chanting of mantras, study of texts, etc.
What a joy to go forward step by step. Today the path leads me towards intuitive dance, chanting, connection to the visible and invisible world to accompany beings on their own inner and outer paths.
Life is an incredible experience and what a pleasure it is to share and walk a part of it with you!
Offers without scheduled departures