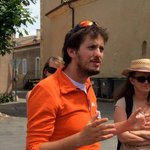 35 years old
fr
Xavier MORDEFROID
Mountain leader
France / Southern Alps
Hautes-Alpes, Gap
Originaly, mountains are for me the place of family holidays. Then the Hautes-Alpes become a place of resources. Round trips by night alone or with friends allow me to escape for weekends or vacations.
Studies are finally an opportunity to settle in the Alps. First in Annecy for a "BTS Animation Nature" and the beginning of the training of hiking guide. Then in Gap, for a bachelor's degree and a master's degree in "Aménagement et Développement du Territoire" specialized in mountain studies, as well as to complete the mountain leader diploma.
Today, I develop my own professional activity in a multi-active way to stay in the Hautes-Alpes: mountain leader and environmental educator under the name of ARMOISE and photographer (report, training and animation: www.xaviermordefroid).
For me, mountains and nature are first of all a personal experience then a collective one. So it is with great pleasure that I share my experiences, my emotions, my knowledge while letting you create your own experience.