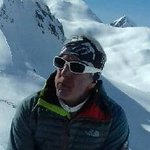 58 years old
fr
en
sp
it
Yvan MIANI
Ski instructor
Activities :
Ski touring
Freeride skiing
Snowshoeing
France / Northern Alps
Savoie, Bourg-Saint-Maurice
With this new winter 2023 on the horizon and the experience of my 38 seasons of ski outings, I can see that the normality of winters has disappeared. Will we be able to do good skiing soon?
I'm a mountain enthusiast and I'm excited by every snowfall, even if they're becoming rarer. I can't bring myself to stop sharing my emotions. I have therefore concocted some choice programs for you which are and will continue to be purely local. On the other hand, you will have to be reactive, available and itinerant. This is why I no longer conceive of the 21st century skier without a pair of skins in the backpack.
Concerning good skiing, it will be the one that you have deserved and you will have to be a little less fussy about the quality of the snow. At each session, I will try to solve the equation body pleasure + eye pleasure / safety.
Offers without scheduled departures