About DirectMountain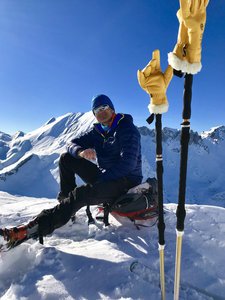 The idea of creating the DirectMountain platform was born during a conversation with a friend who wanted to do an advanced course in ice climbing and who regretted not being able to find and compare, quickly and easily, the offers of different mountain guides on a single website. From one thing to another, from reflections to discussions, the idea grew up, evolved and finally became a reality, leading to the launch of the website www.directmountain.com in mid-2016.
Today, DirectMountain gathers many mountain professionals (mountain leaders, mountain guides, mushers, canyoning, climbing, skiing, mountain biking and caving instructors) who offer their services in mountaineering, canyoning, ice climbing, climbing, hiking, snowshoeing, mushing, ski touring and off-piste skiing, caving, trail, via ferrata and mountain bike.
Passionate about mountain sports for 25 years and an engineer by training, I left the industry after having worked there for 18 years to devote myself fully to the creation and now the management and development of DirectMountain. I wanted to create a website to put mountain professionals and clients in touch with each other, which is easy to use for everyone. And that allows customers to discuss and create a first link with the professional rather than choosing and paying in a few clicks their next adventure in the mountains without knowing the one who will take them. I try to put at the service of this beautiful project my skills developed during my many years of engineering: rigor and seriousness, listening and taking into account the needs of each other, communication, etc.
Today, you can easily and quickly find hundreds of activity offers in the mountains (and elsewhere!) on DirectMountain. You can thus easily and freely contact the professionals to organize and book your next experience, to ask them for additional information and to exchange with them before the departure.
As for the mountain professionals, they will find in DirectMountain a partner who respects their profession and their know-how, who knows how to accompany them efficiently to develop their communication and have a profitable presence on the Internet. The objective is not to put them in competition with each other, but rather to have a good coverage of the territories in the proposed activities.
DirectMountain is also the only web site to put mountain professionals and clients in touch with each other, available in French and in English, in order to attract to the pros the non-French speaking customers that it would be a shame to neglect.
If you like DirectMountain, you can follow us on the social networks Facebook and Instagram and subscribe to the newsletter (at he bottom of the page).
See you soon in the mountains!
Sylvain HORTOLAND