Return to the articles list
Partners
Partnership with MCF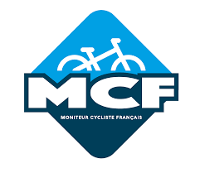 DirectMountain is a partner of the MCF (Moniteur Cycliste Français, or French Cycling Instructor).
Created more than 20 years ago, the MCF is the oldest and most important union of cycling instructors in France. Today it has more than 1000 members, easily recognisable by their famous MCF jersey, and 75 certified schools! All MCF guide instructors are professionals with a state diploma and have completed 1400 hours of training.
Very involved in professional training (creation of an organisation as well as the mountain bike patroller diploma), the MCF has long been recognised by the Ministry of Sport. The objectives of the MCF are: to support, promote and develop the profession and the bicycle. Its offer is based on 3 axes:
Apprenticeship and transmission of know-how:
From learning to perfecting, all MCF instructors are ready to help you discover the pleasure of riding, to explore territories or to teach you how to ride, whatever you do. Mountain biking, of course, but also electric bikes, road bikes, BMX, trials, VTC, Fatbike, Gravel, scooters and others are taught and proposed by our instructors.
Learning methodologies:
To accompany and support its instructors in their supervision, the MCF has created and developed learning methods adapted to all ages and levels. You will find two types of progress books: the Loupiot / Biclou for the draisienne and the beginnings of cycling and the Biker to help teenagers progress on mountain bikes.
MCF instructors are among those offering training courses to pass the "Savoir Rouler à Vélo" (SRV, "How to ride a bike"), a program launched by the French government in 2019 to teach all children how to ride a bike before they start secondary school.
Labels to meet all your expectations:
For years, the MCF has created several labels synonymous with the quality of the services offered: the MCF School label, the Bike Center label, the Bike Coaching label and the Bike Travel label.
These 4 labels will allow you to identify the instructors and structures that best suit your needs: learning, improvement, bike trips, rentals, tests and more.
You will find on DirectMountain many offers from MCF instructors, in mountain bike or fatbike, in order to train, to progress or simply to have fun on two wheels!
Return to the articles list