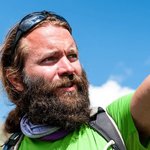 42 years old
fr
en
Cédric ANGLARET
Mountain leader
France / Southern Alps
Hautes-Alpes, Freissinières
Based in the Hautes-Alpes in the heart of the Écrins massif, I share my time between the Southern Alps in summer and winter, and Provence in autumn and spring.
Mountain passionate in all its forms, I practiced or still practice: ski touring, climbing, mountaineering, paragliding and canyoning, always in a spirit of discovery. I am also a very modest amateur naturalist and am particularly interested in botany and lepidoptera.
Mountains practices are changing, and at a time when nature becomes a scenery or a playground for sensational activities, it seems important to me to take the time and observe. Not only admire the landscapes but try to understand them, from the small details to the big issues that impact them. It is in this spirit that I propose to hike, eyes wide open and sharp mind, which is of course not contradictory with a nap near a lake.
After having worked for trekking agencies in France and abroad we decided with my companion Julie Briand, who is also a mountain leader, to propose our own circuits, to become craftsmen of hiking. We chose the routes for their beauty and originality, the accommodations for their quality and hospitality, and we try to minimize the ecological impact of our activities. In a touring market where big companies with quasi-monopoly pull the whole profession down for their immediate profit, we are not trying to be the cheapest but to offer quality stays where each provider is correctly paid for his work and can sustain his activity. Craftsmen with an ethic.
All this looks very serious but I like above all to share these places that I like in a good mood!
Do not hesitate to contact me for any questions, I will answer you with pleasure by email or phone.
Offers without scheduled departures