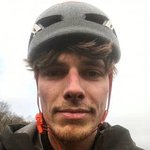 26 years old
fr
en
sp
Damien VIDAL
Canyoning instructor - Caving instructor
France
Pyrénées centrales,
Having had the good fortune to grow up in the heart of the Pyrenees, which have been my playground since childhood, I have always wanted to explore the mountains through the elements that have shaped them. Its various aspects offer a set of disciplines that are at the heart of my life today.
I have been practicing canyoning since I was very young, my father having passed on to me the passion for this activity but also that of sharing it. Already sensitive to coaching and teaching, it is at the age of 16 that I obtained the federal initiator's certificate in canoe-kayak, to continue to experiment white water and its challenges. I then took the professional diploma in canyoning as soon as I was old enough to do so!
Attracted since always by the caves around my home, I often took torch and overalls to venture there secretly. When I was 18 years old, I was given the real passion of exploration: discovering new underground networks still untouched, exploring them, mapping them in order to share them with as many people as possible. I then went on to obtain a professional caving diploma. I am an active member of the French caving federation at the departmental level, and I am also part of the "Spéléo Secours Français" which provides underground rescue operations. During my free time I also practice mountaineering, ski touring, cycling, trekking, paragliding, etc.
In 2021, we decided to get together with four close friends (including Axel CHAUX and Caroline LEMAITRE, both climbing and canyoning instructors) with the objective of working differently. We then created the Bureau des Moniteurs Pyrénéens in order to emancipate ourselves from the big and more commercial structures with the idea of putting the emphasis on the quality of our services. We propose a supervision in accordance with our values and adapted to your desires, within small groups in wild places and far from the crowds for a day that you will not forget.
It will be my pleasure to explore the unknown with you, this other underground world whose soothing immersion will amaze many.
Note: The proposed outings are not yet published on the platform, but don't hesitate to contact us for more information and to book your session!
Offers without scheduled departures