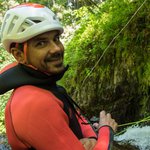 42 years old
fr
en
sp
Frédéric FONT
Canyoning instructor - Climbing instructor
Activities :
Rock climbing
Via ferrata
Canyoning
France / Catalan country
Pyrénées-Orientales, Perpignan
Certified canyoning and climbing instructor in natural environments, I am pleased to share with you my knowledge and passion for canyoning, verticality and the great outdoors. The objective of the outings and training courses that I organize is to allow you to learn, to disconnect, to surpass yourself sometimes, and to share a moment off the beaten track.
The vision I have of my job?
To transmit the right gestures and my good mood!
To show pedagogy and debrief at the bar!
To accompany you and allow you to move towards autonomy!
Offers without scheduled departures