All about climbing Kilimanjaro
Do you dream of climbing Africa's highest point and need some information before you start? DirectMountain tells you everything and helps you in your preparation and in your choice of route and guide.
Kilimanjaro is a dream for hikers and trekkers for a long time. Located in Tanzania, the highest point on the African continent is a majestic and iconic peak. Even if its ascent does not involve technical difficulties strictly speaking, it should not be taken lightly. DirectMountain helps you in your preparation and answers your questions before embarking on this long climb.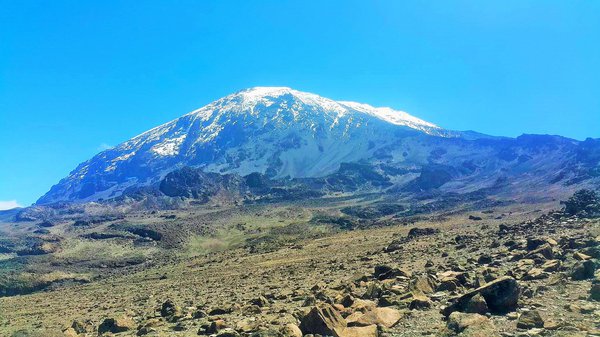 Presentation of Kilimanjaro
Located in the north-east of Tanzania, Kilimanjaro rises to 5891 meters above sea level and is composed of three extinct volcanoes: Shira to the west (3962m), Mawenzi to the east (5149m) and Kibo, located between the two others and whose Uhuru peak is at 5891.8 meters.
Visible from a distance and easily recognizable by its characteristic icecap, its ascent is highly regulated: lasting about a week minimum, it must take place following one of the tracks listed, and you must be compulsorily accompanied by a guide and a team of porters. Technically easy, it does not require any particular experience. Adequate training, a little motivation and perseverance are nevertheless necessary to carry out this challenge.
In terms of weather conditions, the most favorable periods for climbing are from June to October, and from December to March.
Preparations for the ascent of Kilimanjaro
The ascent of Kilimanjaro is not technical strictly speaking: you do not need to have mountaineering skills, you will stay in the field of hiking, sometimes a little alpine (you may need to help you with your hands ). In order to enjoy your stay on the slopes of the volcano, it is better to practice hiking regularly, if possible for several days in a row, with significant positive elevations. Your preparation can begin a few months before your departure.
It is also recommended to go to high or medium altitude before your trip, in order to accustom your body to lack of oxygen. Indeed, the main risk during the ascent of Kilimanjaro is an altitude sickness. This can be manifested by a headache, nausea, loss of balance or appetite, etc., and appears when the altitude rise is too fast for the body. During the trek it is therefore important to listen to your body (drink enough, walk slowly) and your guide who will give you the proper climbing rhythm. When the altitude sickness is proven, it is important to quickly lose altitude, or, when this is not possible, to use a hyperbaric chamber to simulate this loss of altitude. If not, it can degenerate into pulmonary or cerebral edema and be fatal. It is therefore essential that your guide be serious and bring a hyperbaric chamber for the group. This is of course the case for all offers on DirectMountain.

In order to have an acclimatization to the highest possible altitude, we advise you to hike the Mont Meru trek during 4 days before your attempt to Kilimanjaro. With its 4566 meters of altitude, it is the ideal training to avoid altitude sickness.
Pour marcher jusqu'au sommet du Kilimandjaro, vous devrez apporter un matériel adapté. Les variations de température entre les journées et les nuits pouvant être importantes (de -20 à +40°), vous devrez amener à la fois des vêtements légers et protégeant du soleil, et d'autres chauds et coupant le vent. Vous aurez intérêt à miser sur les vêtements techniques qui sècheront vite. Prévoyez des sous vêtements en quantité suffisante, et pensez aux gants, doudoune, bonnet, collant, chapeau, lunettes de soleil, crème anti-UV, chaussures de marche adaptées.
To walk to the top of Kilimanjaro, you will need to bring appropriate equipment. Since temperature variations between days and nights can be significant (from -20 to + 40°), you will need to bring both light and sun-protecting clothes, and other warm ones that protect from wind. You would better bet on technical clothes that dry quickly. Provide sufficient underwear, and think of gloves, down jacket, hat, tights, hat, sunglasses, UV cream, suitable walking shoes.
It is also strongly recommended to take a pair of telescopic walking sticks (more convenient to carry in your luggage) in order to save your efforts on both the ascent and the descent. Finally, it is essential to bring a warm down with a temperature of comfort around -10°.
The different routes of Kilimanjaro
Kilimanjaro has 7 voies main routes going go its summit:
Shira route
Umbwe route
Mweka route
Loitotitokv
These itineraries, which last from 8 to 10 days, all have their specificity: the Marangu route, also called the "Coca-Cola" route, is the shortest and most used, the Lemosho route is the easiest, the Machame route more beautiful, etc. Depending on your desires, your preferences, the guide will advise you on this or that route.
All roads are between 40 and 45 km long in total. The steps are reasonable and allow you to climb slowly to get your body used to the effects of altitude. Only the last stage leading to the Uhuru Peak is long (more than ten hours with a very early start) and a little more tiring, but what a reward when you admire the African continent from its highest point!
On all these itineraries you will be accompanied by porters who will take care of the transport of the common material but also of your personal belongings, except for a small bakpack "for the day" that you will keep with you.
Kilimanjaro ascent in short
Very popular and with good reason, climbing Kilimanjaro is a must for any mountain hiker. This classic course is offered by many French and Western trekking agencies. You should know that these stays are simply treated under local guides, without real added value. So why pay an additional intermediary when you can directly contact a Tanzanian guide?
DirectMountain offers you to deal directly with a local guide, very competent and recognized, having worked for the biggest trekking agencies, knowing well the desires of the customers and having a material in good state and efficient. We prefer to offer you only one trusted person rather than to compete with several professionals we do not know.
DirectMountain wish you a beautiful climb of Kilimanjaro, and to bring back many beautiful memories that Tanzania will offer you. We advise you besides, after your trek, to embark for a safari to discover National Parks and Tanzanian culture, which will make you discover other aspects of this magnificent country!
For any additional information request, do not hesitate to contact us: contact@directmountain.com or +33 (0)6 20 05 33 24.