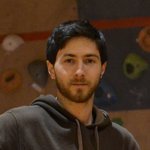 30 years old
fr
en
Élie JOBERT
Climbing instructor
France
Isère, Grenoble
Originally from southwestern France, I discovered rock climbing late. But as we often say, better late than never!
I was immediately taken a passion for the activity and finally moved to Grenoble a few years ago now to develop my two passions: rock climbing and transmission.
I am now a rock climbing instructor in Grenoble and have a State Diploma of Youth, Popular Education and Sport, sporting development specialty, mention climbing (DEJEPS climbing). This is the diploma that replaces the State Patent since 2013.
I am lucky to be able to go to work with a smile and pass on my knowledge and skills, giving climbing lessons to beginners, young or old, indoor or ourdoor.
I also like to learn climbing to people already climbing and wishing to progress in the activity, whether through courses, cliff outings or indoor workshops.
With friends or family, climbing can be easy and fun, but can also satisfy those in search of sensations: whatever your level, all will enjoy it!
From the age of 6, I offer courses and climbing trips around Grenoble and in the surrounding mountains of Chartreuse and Vercors. You can come to discover the climbing safely during the day, half-day, or during courses of several days for the more adventurous.
Do not hesitate to contact me to have more information on the outings or the courses, you can otherwise have a look on my website.
My plus: I like to climb, as much as I like to coach and make climb!
See you on a climbing wall!
Offers without scheduled departures