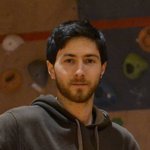 33 years old
fr
en
Élie JOBERT
Climbing instructor
France
Isère, Grenoble
I have been passionate about climbing of all kinds since I was very young, and I will be delighted to share my knowledge and my skills with you, but above all my passion: climbing!
Because yes, climbing is a virus that is also quite easily transmitted! Climbing is first and foremost the pleasure of achieving something on your own, of sharing an activity and a special moment, and even of simply being in nature.
Today, I am lucky enough to be able to live in Grenoble, in the heart of the Alps, and to live from my passion full time by being a state-certified climbing instructor. Such that way, I offer climbing lessons to beginners and advanced climbers, indoors in the gym or outdoors on the crag.
I'll do my best to make you have a good time, whether you are new to climbing or want to progress 😊.
My climbing sessions take place in Isère, in Grenoble or in the surroundings, and are to be chosen from the proposals below. Not all the climbing outings are necessarily on the calendar. If you have special needs or requests do not hesitate to ask me by email (available on the right) or by phone, I will try to answer you as soon as possible.
Offers without scheduled departures