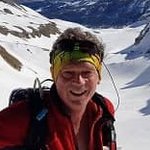 55 years old
fr
en
Marc SONNET
Mountain leader - MTB instructor
Activities :
Hiking
Snowshoeing
Mountain bike
France / Southern Alps
Hautes-Alpes, Gap
Mountain leader, mountain bike instructor and sports educator, I have been living in the Hautes-Alpes for over 20 years.
I would like to invite you to discover with me an area that I know perfectly well, in summer or in winter, through numerous activities.
My passion for the mountains and my experience as a teacher will enable me to share my knowledge with you so that you can make the most of this wonderful environment.
I like to meet people from different backgrounds. I find it very enriching and I always try to adapt myself as best as possible to each person.
My body and mind need physical exercise for their well-being. Being in contact with nature is very important for my physical and mental balance. So when a job is a passion and a source of pleasure and fulfilment at the same time, it's a must!
Offers without scheduled departures