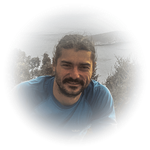 49 years old
fr
en
Fred LECONTE
Climbing instructor
Activities :
Rock climbing
Via ferrata
Greece
Dodécanèse, Kalymnos
I have always had a passion for climbing and the outdoors. I started climbing at age 8, at this time it wasn't a cliff, it was the side of my house. If it wasn't my main activity when I was young, I always climbed. In my former years I dedicated much of my time to the art of skateboarding. I ran my first marathon in my 30th year and for 10 years I ran long distance trails, like the small race of the UTMB (90 km). Cycling, hiking and ski mountaineering are activities I like to practice. I adore the mountains in winter and enjoy long distance traverse's in the snowy landscape of remote places.
For 15 years I worked in research and development on laser systems dedicated to fundamental research in the Paris region. At this time I was fortunate enough to live in Fontainbleau Forest where I could boulder almost daily! I have since transformed my way of life in search of freedom. I completed my climbing guide certification with the French National Diploma in 2015. This course is completed over a year and a half. With focus on teaching skills and safety in sport climbing, multi-pitch and trad climbing with individuals of all levels and abilities. My studies offered the opportunity to climb extensively in many regions in France (Calanques, Verdon and Jonte are a few favourites). I have enjoyed climbing in Suirana (Spain), Finale Ligure (Italy) and Leonidio (Greece).
I continue my journey with the desire to convey the fullness of the great spaces and vertical life. I like sharing the culture and practice of climbing in the outdoors. Serenity, kindness and attentiveness are the qualities I hope to portray with the people I support around the cliffs.
My wanderings have brought me to Kalymnos and it's charm has kept me here. This fascinating island seduced me in many ways: the hospitality of its inhabitants, the mildness of its climate, the quietude of its landscapes and of course the richness of its cliffs.
I organise rock climbing and yoga stays here in Kalymnos (6-day courses) and activities by the day (via ferrata, multi pitch route climbing, deep water solo, climbing courses) for any level so that I can share the magic of this place: it transforms all who come to experience it. Whether you have just a few hours or a few weeks you can enjoy climbing on Kalymnos!
Offers without scheduled departures