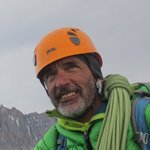 50 years old
fr
en
Jean BOUCHET
Mountain guide
Activities :
Rock climbing
Ski touring
Mountaineering
France / Northern Alps
Haute-Savoie, Chamonix
In 1984, I discovered mountaineering and rock climbing thanks to Grenoble's CAF, and two years later, aged 16, a mountain guide employed by this structure takes me in sympathy and makes me an incredible proposal that I of course accepts immediately: I follow him, wears the collective equipment and helps his customers and in exchange, he takes me for free in the outings he has made a specialty: the classic rock climbing routes of the Limestone Pre-Alps.
I naturally think of becoming a mountain guide myself, even if this dream seems to me at the time insane and highly impracticable because I finally have little experience in mountaineering.
Exiled three years in one of the wildest area of Vercors, I become a hiking guide in 1989. I practice this job with great pleasure because I have a personal interest in all aspects of life in the mountains, trees, flowers, animal tracks, birds and raptors.
Having made hundreds of outing and other major and various routes throughout the Alps, I naturally become a mountain guide in 1996. I have been practicing this profession full time, first in the Ecrins and the Southern Alps, then everywhere in the Swiss and Italian Alps, trying to almost never repeat the same route to always keep alive the passion and the desire to return to the top.
In 1997, I discovered a new desire and crossed a new course: I turned to far-off trips and cold destinations.
After more than thirty exploration trips and major achievements in twenty countries (Norway, Spitsbergen, Patagonia, New Zealand, Eastern European countries, Greenland, South Georgia, Antarctica, Baffin Island, African countries, Nepal, etc.) and in places that are often improbable and always far away from the classic destinations offered by agencies to the masses of consumers, I consider myself a true craftsman of mountain adventure travel with a human dimension.
Today I offer you these exceptional trips on the comfortable boat Kamak.
Offers without scheduled departures