Dare ice climbing this winter in the Alps
Ice climbing, or more precisely the ascent of ice cascades, has the reputation of being an extremely difficult, dangerous and reserved discipline for an elite. The truth is, of course, more nuanced, but this activity, accessible to all, should be approached seriously and with truly competent people. DirectMountain offers you different options to start or progress in ice climbing this winter in the Alps, with mountain guides who will make you love this amazing sport!
Ice climbing initiation in Isère, Hautes-Alpes or Savoie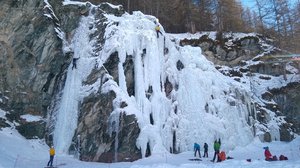 During this ice climbing initiation in Isère, Savoie or Hautes-Alpes avec Julien, mountain guide, you will learn the basics and techniques to evolve on these ephemeral and frozen structures.
Discovery of the environment, use of crampons and ice axes, and ice climbing are waiting for you during this day that can take place in one of the following spot, depending on your location and your desires: Écrins (La Grave, Saint-Christophe-en-Oisans, Diable valley), Vercors, Belledonne Massif, etc.
---
Ruisseling and ice climbing in Aravis (Haute-Savoie)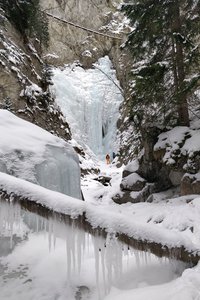 Direction Aravis and the valleys around Thônes with Didier, mountain guide, to climb ice pitches. Depending on your level and experience, you'll be able to easily navigate frozen streams with steeper projections (a discipline called "ruisseling") or try ice falls, structures with more and longer straightened passages.
---
Multi pitch ice climbing route in Isère, Savoie or Hautes-Alpes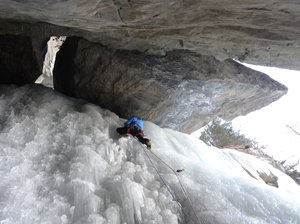 Do you already have experience in ice climbing practice? You like this discipline and you would like to go see more, measure yourself to structures of a hundred meters high or more? This day of ice climbing with Julien, mountain guide, is for you! It's up to you to choose the place that you are most interested in, depending on the conditions and recommendations of the guide: Écrins Massif (Vallon du Diable, La Grave), Maurienne valley, Belledone massif, etc. The choices are multiple!
---
(Re)discover ice climbing in the Hautes-Alpes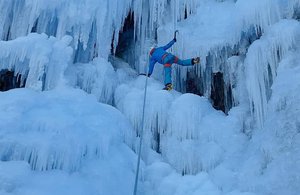 The south of the Écrins massif is what you might call a paradise for ice climbing. L'Argentière-la-Bessée, Freissinières, le Fournel, etc. are all spots offering numerous itineraries of all levels. During this day, it is here that you will (re)discover ice climbing with Martial, mountain guide. You will learn the basics of ice climbing, from putting on crampons to the gestures, including the "swing" of the ice axe and much more ;-)