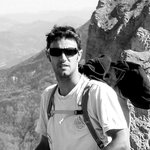 40 years old
fr
en
it
Martial LEYDIER
Mountain guide
Activities :
Hiking
Snowshoeing
Rock climbing
Via ferrata
Ski touring
Freeride skiing
Mountaineering
Ice climbing
France / Southern Alps
Hautes-Alpes, Freissinières
Native of the Auvergne region and passionate about the mountains, I decided to settle down in the beautiful valley of Freissinières in the heart of the Hautes-Alpes department.
With my girlfriend, we took over a very beautiful establishment: the ** hotel "Les 5 Saisons". It is a real base camp ideally located for everything related to mountain activities. At the same time close to the Écrins Massif and Queyras it is located in a preserved valley with an easy access.
From this place, it is easy for me to radiate for my summer (mountaineering, climbing, via ferrata) and winter (ice waterfall, ski off piste and ski touring) activities.
Despite this ideal geographical location, I also like to discover other mountains and I do not hesitate to move. For any request of activity, even if it is not offered on DirectMountain, do not hesitate to contact me, I will be happy to answer you or guide you, and talk about your future projects.
Offers without scheduled departures