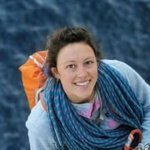 26 years old
fr
en
Elsa COLETTA
Climbing instructor
Activities :
Rock climbing
Via ferrata
France / Northern Alps
Haute-Savoie, Chamonix
Born from a father who is a mountain guide and a mother who is a sports teacher, I lived my entire childhood between the beautiful Chamonix valley (in winter and summer) and the cliffs of the Lubéron the rest of the year.
Very early I started to climb on the cliffs and on the small boulder in my parents' garage. As soon as I arrived at school in the sport-study section, I started climbing competitively and continued for 12 years until I arrived at the STAPS (University of Sport) on the banks of Lake Bourget in Savoie. After completing a degree in Management and Development of Sports and Leisure Organisations and Services specialising in mountain sports, I took a year to think about what I wanted to do... The following year, I started my list of requested routes to enter the training course to become a climbing instructor.
I have been lucky enough to travel a lot and to go climbing, skiing and surfing in incredible places. Climbing is for me a passion that refers to sharing, trust and beautiful places. This is what I want you to discover by taking you on various vertical routes. From the discovery of the activity in the mythical valley of Chamonix, to the course on the beautiful island of Kalymnos in Greece or in the Calanques of Marseille, you will surely find the right place for you!
Recently, I have joined forces with a long-time friend (yoga teacher) to offer climbing and yoga courses in carefully chosen locations.
Don't hesitate to contact me for more information! 🌞
Offers without scheduled departures