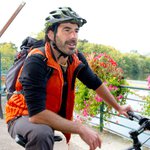 41 years old
fr
en
Ludwig DAGOREAU
Climbing instructor - MTB instructor
Activities :
Rock climbing
Hiking
Mountain bike
France
Bourgogne/Jura, Dijon
Passionate about adventure and the discovery of nature, I like to explore and share moments in unusual places. Hungry for sensations and leisure, I teach and guide my customers by bike through the Burgundy vineyard, but also climbing on our beautiful cliffs.
My past jobs in artisanal products, cheeses and wines, have trained me in oenology. Today as a sports monitor and wine guide, I want to share with you the knowledge of our wine terroir by bike in our vineyards, accompanied by tastings. We welcome groups or individuals ...
Activities are available throughout the territory: mountain biking down the Morvan, mountain biking in the vinyards in Dijon, electric mountain bike in Nuits St Georges and Haut Folin (985m), climbing discovery near Dijon, Beaune ...
Sports instructor graduate BEESAC / BPJEPS APT / CS Climbing / CQP technician cycle
Supervision outdoor sports: mountain biking, BMX, hiking, climbing, orientation ... incentive games, quizzes
I also rent and repair bicycles.
Offers without scheduled departures