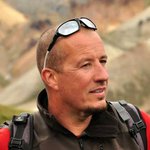 50 years old
fr
en
Arnaud POUPOUNOT
Mountain leader
France / Provence
Alpes-de-Haute-Provence, Banon
I have been a mountain leader for more than twenty years and I regularly walk the trails of Provence where I live, of France and of the world. I am always looking for unique moments to share, to meet people who make the world and who transmit us the modest joys of existence.
With nature as a backdrop, I propose simple and sometimes unforgettable moments, such as discovering a lost path, observing the local fauna or photographing a sunset or an aurora borealis.
Each moment must be unique and I work daily to constantly marvel at this beautiful and generous nature. Just to take a little height on the world, in all modesty.
From the village of Banon in the northern Luberon, in the Alpes-de-Haute-Provence or in the Arctic regions that I frequent assiduously, each hike will be unique and rich of great moments, in the shelter of a rock or a forest, as at a table.
The themes of my hikes are the discovery of the wild life and the flora that compose it. I also like to take a writer's book and share it with you during a literature hiking. Or to go and meet the inhabitants around us, to discover and share their daily life as local producers of goats, bread, cheese or olives. But also lavender or beer brewers.
In short, I am a real craftsman of hiking.
I offer you vacations in the middle of nature and off the beaten track, unique stays adapted to your desires, your wishes and your constraints. These activities always remain close to what you like: simplicity, respect and meeting people.
Whether you are a works council, a group of friends, a sports club or a yoga or wellness association, together we can create a vacation that suits you: a group holiday in star-shaped or itinerant mode, in active or relaxing mode, for a weekend, a short stay, a week or more!
I am waiting for you!
Offers without scheduled departures