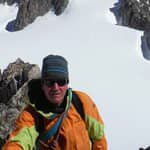 57 years old
fr
en
sp
it
Edy GRANGE
Mountain guide
Activities :
Hiking
Snowshoeing
Rock climbing
Via ferrata
Ski touring
Freeride skiing
Mountaineering
Ice climbing
Italy / Alps
Val d'Aoste/Mont-Blanc, Courmayeur
Born in 1966, I quickly chose to make the mountains my profession, becoming an aspirant guide in 1986 and a mountain guide in 1989. Since 1988, I've been a member of the Courmayeur guiding company, founded in 1850 and Italy's first guiding company (and second in the world after Chamonix' one on the other side of the Mont-Blanc massif).
From 1995 to 2001 I was head guide in the Courmayeur guiding company, my main role being to coordinate work, promote and sell mountain products. Since 1986, I've also been a first-aider in the Aosta valley alpine rescue service. In this capacity, I regularly carry out mountain rescue missions under the aegis of the Italian Civil Security. Since 2000, I've also been a regional mountain rescue instructor. So my activity covers all mountain disciplines and develops throughout the year.
In the 30 years I've been in the business, I've done with my clients on some of the greatest classic mixed rock and ice moutaineering climbs in the Alps. In 2002, I began a parallel extra-European activity that has taken me to the mountains of the South American Andes of Argentina, Peru, Bolivia, Ecuador and Chile with my clients.
I'm a great fan of small mountain expeditions, and every year I continue to help groups of people discover the fabulous mountains of the Andes, the Himalayas, the Karakoram, and so on.
Finally, I am also the creator and coordinator of th "Horizon Montagne" structure which offers expeditions and training courses of several days.
I'd be delighted to help you discover and progress in ski touring and mountaineering. So don't hesitate to contact me, so that together we can explore the beautiful mountains of the Aosta valley or of the world.