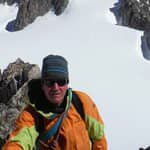 56 years old
fr
en
sp
it
Edy GRANGE
Mountain guide
Activities :
Hiking
Snowshoeing
Rock climbing
Via ferrata
Ski touring
Freeride skiing
Mountaineering
Ice climbing
Italy / Alps
Val d'Aoste/Mont-Blanc, Courmayeur
Born in 1966, I was an aspirant guide since 1986 then a mountain guide in 1989. Since 1988, I work at the Courmayeur guide company, founded in 1850 and first Italian guide company (and second in the world).
From 1995 to 2001, I was chief of the guides in this company with the main function of coordinating the work, promotion and sale of mountain products. Since 1986 I am also a rescuer in the alpine rescue team of the Aosta valley and I regularly carry out mountain rescue services under the aegis of the civil security. Since the year 2000 I am a regional mountain rescue instructor. My activity covers a all mountain disciplines and develops throughout the year.
In 30 years of activity I realized with my clients some of the greatest gclassic routes of mixed mountaineering, rock and ice, of the Alps. In 2002, I started an extra-European activity that took me through the mountains of the South American Andes of Argentina, Peru, Bolivia, Ecuador and Chile with my clients.
Great fan of small expeditions in mountains I continue to discover each year with groups of people these fabulous mountains that are the Andes, Himalaya, Karakorum, etc.
Finally, I am also the creator and coordinator of the structure Horizon Montagne which offers expeditions and training courses of several days.