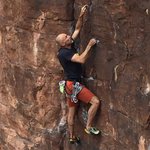 52 years old
fr
en
Reynald BOURDIER
Mountain guide
Activities :
Canyoning
Rock climbing
Via ferrata
Ski touring
Freeride skiing
Mountaineering
Ice climbing
France / Southern Alps
Hautes-Alpes, L'Argentière-la-Bessée
Each to his/her own mountain guide.
I want to ski far from the tracks, away from crowds and trendy guide books, I want to climb on warm limestone and relax with smile, I want to relive my day in front of a beer, to smoke a cigarette with my client, my friend, the one who stalled in my tracks all day long.
I do not want to queue on the normal route of Mont Blanc, not want to walk under the threatening seracs of the Dome of Ecrins, not want to run after a cable car with my client in hypoglycemia.
I want a cool bivouac, beautiful multi pitch rock climbing route not too hard, endless powder snow, only beautiful days.
If the adventure tempts you, if the silence does not scare you, if you want to discover the mountain or climb dreamed summits, be welcome!
See you soon.
Offers without scheduled departures