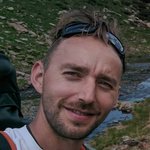 34 years old
fr
en
Jocelyn SOULARD
Mountain leader
France / Northern Alps
Isère, Grenoble
As a mountain leader and ecologist, I offer to guide you and share with you my passion for the natural environment in order to discover together the many facets of this rich environment: the fauna, the flora, the geology and the cultural heritage.
The mountain is a limitless playground in which each horizon, ridge or summit hides a new landscape to be discovered.
I offer you a unique mountain experience, discovering the wild world, through hikes in the Alps or the Pyrenees, in France or abroad.
Winter will also be the occasion to discover with snowshoes the beauties of a sleeping or at least more discreet nature.
A philosophy of travel.
The aim is to pass on to you the knowledge of the natural world and make you discover wild landscapes. Immersing yourself in nature and taking the time to observe, listen, feel and understand the world around you will be the essence of our outings.
The size of the groups is reasonable, not exceeding 8 participants, for conviviality, to reduce our impact on the environment and to be able to observe the wildlife.
How it works.
The program of outings and stays gives an idea of the atmosphere, but it is above all the environment, nature and the weather that will guide our steps. Also, according to your desires and abilities, the stays will be adapted so that each participant can live the experience at his or her own pace.
Tailor-made stays.
You have an idea, a date to propose me. Let's create your trip together, don't hesitate to contact me!
Due to the particular situation of Covid-19, I personalise and adapt the trips in order to apply the sanitary measures in force and known at the time of departure. I am committed to taking care of your safety and health and to create a serene climate so that you can fully experience and enjoy your trip.
You can therefore register now with complete peace of mind for the next proposed dates or suggest your availability to me. And if we have to cancel our trips for reasons linked to the Covid-19 crisis, I commit myself to offering you either a postponement of the trip or a full refund.
So, no more hesitations! Come and discover wild landscapes that will do our bodies and minds good.
I can be reached by e-mail and by phone (see opposite). I will be happy to answer you in order to elaborate together your projects of stays and trips.
Offers without scheduled departures