Start ski touring this winter in the Alps
You like skiing but you are looking for something other than crowded slopes or off-piste skiing? Do you want wide open spaces, freedom, to go and walk the mountains wherever you want? Aren't you afraid of the physical effort of the climb? So don't wait and try ski touring this winter!
Ski touring is a wonderful activity, rather trendy at the moment, but it is advisable to approach and start with the help of competent people, such as mountain guides or ski instructors. Knowing how to ski down in all types of snow is an almost essential plus, but there are many other aspects to master: the equipment that is specific, the effort and technique of climbing, the aspects related to safety, and if you want to go more towards autonomy: the choice of route, the management of the group, etc.
Only serious and complete training will give you the necessary foundations to practice ski touring first, then to move towards autonomy afterwards.
Among the important aspects for a beginner we can mention:
Knowing the equipment: which equipment to choose and why, how best to use the skins, what length of hiking poles, what to put in your backpack.
Climbing: what is the optimal movement, what is the best height of the wedges, how to manage the effort, how make convertions easily and effortlessly.
Safety: learning how to use the avalanche transceiver, how to use probe and shovel, how to do a multi-victim search, and how to manage the different aspects of a rescue.
And to move towards autonomy: how to prepare your outing, choose the best route, manage a group...
DirectMountain's mountain guides and ski instructors will make you discover this beautiful activity in complete safety, so book your introduction to ski touring now! Here is a selection of their offers that are perfect for a first approach:
Ski touring discovery day in Haute-Savoie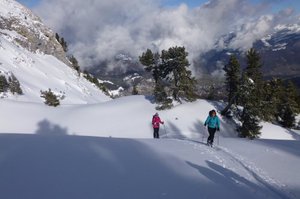 The mountain ranges around Annecy in Haute-Savoie are perfect for ski touring! With Didier, a mountain guide, you will explore them for a day of initiation to ski touring. On the program: discovery of the equipment, use of the transceiver, easy climb (paths, mountain pastures), progression techniques (conversions, climbing wedges) and panoramic summit! The plus: safety equipment is provided!
---
First ski touring experience in Hautes-Alpes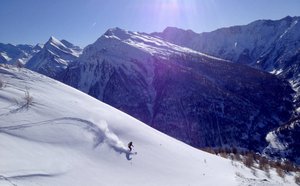 Do you want to experience skiing differently? To access breathtaking landscapes? To learn the basics of ski touring, both  evolution technique and safety? Reynald, a mountain guide, will know how to find the best snow, the slope adapted to your level of descent and make this day of discovery of ski touring an unforgettable moment.
---
Introduction to ski touring in Aosta Valley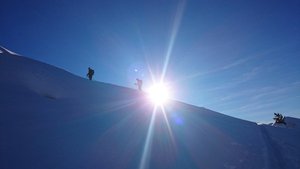 Direction Italy and Aosta Valley for this 2-day introduction to ski touring or this 4-day ski touring intership for beginners with Edy, a mountain guide. You will have time to discuss and learn all aspects of ski touring: descent in all types of snow, climbing, safety, mapping, etc. At the foot of Mont Blanc, this discipline will have no more secrets for you at the end of the course ;-)
---
Learn to ski tour gently in Haute-Savoie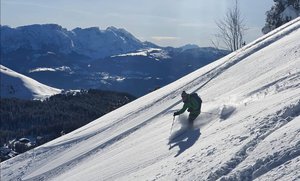 This introduction to ski touring near Annecy in Haute-Savoie takes place "differently": gently, without effort, in a Zen-like way. The approach proposed here is suitable for everyone because it is mainly experienced from the inside, it starts from one's feelings. The training is based on the Caruso method, which Pieric, a mountain guide, teaches. This day is made to enter the ski touring mode in a soft way, in the respect of oneself and one's capacities. To experience the pleasures of skiing, but also of contact with nature, the air, life!
---
Discover ski touring in the Southern Ecrins
Between larch forests and wide open spaces, this discovery day of ski touring in the southern Ecrins with Martial, a mountain guide, is an opportunity to learn the techniques of this activity, the use of the avalanche transceiver and to progress in the descent. Without forgetting to have fun of course!