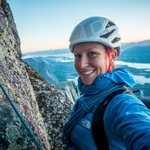 35 years old
fr
en
Amélie ROUSSELET
Climbing instructor
Activities :
Rock climbing
Via ferrata
France / Northern Alps
Isère, Grenoble
Having grown up in the Alps, I started climbing at the age of 9. Then, attracted by wide open spaces, I went with my backpack to travel around the world which made me want to move towards climbing on multi pitch routes.
Then to start my projects: I created the project "Demoiselles Aventurières", a big project that led me to pass my rock climbing instructor diploma to teach climbing but above all to make discover trips around climbing.
I have a crush on climbing north of Norway on the Lofoten Islands. This archipelago offers a perfect terrain for rock climbing, trad climbing and even bouldering! An extraordinary place where I will be happy to take you to climb and discover these wonderful landscapes.
I like to convey my passion, take the time to teach safely, to small groups to be more qualitative. I want to share climbing with you and make you discover this practice with friends, as a couple or with family.
Going to conquer the vertical world, through a via ferrata, a via corda or a multi pitch route, or even a climbing trip, enjoying dinners or nights in cliff, it will be by my side around Grenoble, Vercors Massif or in Savoy, in Maurienne but also in the Calanques or on the famous cliffs of Verdon. And for the most adventurers in Italy, Spain, Greece...
See you soon ;-)
Offers without scheduled departures