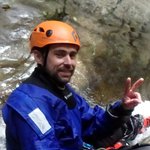 36 years old
fr
en
sp
Johan RIVOIRE
Canyoning instructor - Climbing instructor - MTB instructor
Activities :
Rock climbing
Via ferrata
Hiking
Mountain bike
Canyoning
France / Northern Alps
Isère, Grenoble
Certified instructor in canyoning and rock climbing in natural environments, I am passionate about the regions of Isère, Savoie and Haute-Savoie. I collaborate with the entire network of instructors and guides close to Grenoble, Lyon, Valence, Annecy, Chambéry and Geneva.
I have been passionate about climbing for 15 years and I like to share my passion. I created the sortie-canyon structure that offers outings in canyoning, climbing and via ferrata.
The rest of the year I am also a circus teacher (graduate of the circus arts). I created the structure Activisère which offers circus and theater.
You will understand, I like sports activities and coaching. Pedagogy has become a new passion over the years. I like to transmit my knowledge, share and make discover or progress someone in an activity.
My goal is to offer outdoor activities that meet your desires. You can contact me if you want to organize an outing in canyoning, via ferrata, rock climbing or via corda.
Offers without scheduled departures